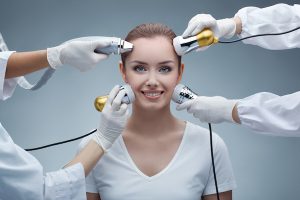 Dermatology is the medical specialty dealing with the skin and diseases of the skin.  It concerns the study, diagnosis and research of normal skin and disorders of the skin.  A dermatologist is a medical doctor who specializes in the treatment of diseases that are related to your skin, nails, hair, mucous membrane, and various cosmetic problems. Dermatologists provide care for people of all ages, from newborns to seniors. 
A dermatopathologist is a doctor who specializes in pathology and dermatology. They examine tissue with a microscope to diagnose your medical condition. When a dermatologist notices an issue of concern with your skin, they may biopsy it, removing a piece of skin and sending it to a dermatopathologist to confirm their suspected diagnosis. After the dermatopathologist has examined the biopsied skin, they will provide the dermatologist with a written report called a biopsy or pathology report. This report will reveal if a disease was found and include other information, like stage or severity, that can help determine the best possible treatment. Some other types of Dermatology subspecialty fields are Pediatric Dermatology (a subspecialty that focuses on diagnosing and treating children's skin, hair, and nails), Cosmetic Dermatology (a subspecialty that focuses on the aesthetic enhancement of the skin), and Surgical Dermatology (a subspecialty that focuses on the removal of cancer cells from the skin). 
The skin is the external largest organ of the body. One of the main functions of the skin is to protect the body from external factors such as chemicals, bacteria, and temperature. Skin covers your whole body and acts as a barrier between outside and inside environment. Your skin is one of the primary sense organs that can sense heat, cold, pressure, touch, pain, and pleasure. Other functions of the skin are:
Regulates body temperature

Prevents water loss

Stores water, fat, and vitamin D

Synthesizes vitamin D when it is exposed to sunshine

Protects the body from environmental factors like UV rays, pollution, germs, radiation from the sun, allergens and more

Excretes excess of water, salts, and other wastes in the form of sweat through the sweat pores.

Receives sensory information
A dermatologist can identify and treat more than 3,000 conditions.  There are about 1,500 distinct skin diseases and many variants. Some of the most common conditions a dermatologist may treat include:
Dermatologists use various types of medical and cosmetic procedures to manage issues affecting the skin, hair, and nails. Medications and noninvasive therapies can treat many skin conditions, while others require an invasive treatment which can take place in an outpatient setting, such as the doctor's office, or in a hospital. Common procedures that Dermatologist perform include: 
Hair Removal or Restoration
There is a difference between a Dermatologist and an Esthetician. An Esthetician (sometimes called Aesthetician) specializes in the beautifying, maintaining, and cleaning the skin and the face. Estheticians are not medical healthcare providers. They perform cosmetic skin treatments, such as facials, chemical peels, body treatments, waxing, dermabrasion and microdermabrasion, acne therapy, and brow lamination. 
Obtaining a doctor's education in Dermatology requires a four-year undergraduate degree, then four years of medical school, and a three-year residency program. After the residency program is completed, a small group of the best candidates are selected from each medical program to participate in a fellowship training program. Fellowship training is a privilege that only top doctoral candidates are chosen to participate in to become a specialist or experts in their chosen field of medicine or surgery. Fellowship training is part of the process of becoming a specialist physician and requires an additional year or two of education. During fellowship training, a physician goes through rigorous training to become an expert in their subspecialty. The fellowship training program consists of practical experience which includes participation in numerous specialized surgeries which provides significant work experience the physician needs to become a specialist in his/her chosen field to receive their credentials. Physician's that choose this path are committing to extra education and are devoted to providing the best medical care possible to patients. A Board-certified doctor indicates that a physician has achieved the highest level of accreditation within a given specialty. Board certification is a voluntary, additional step that a physician chooses to prove that they are trained in the latest technology and advancements in their specialty. Physicians are required to successfully pass written and oral board examinations in their specific specialty to verify knowledge, competency, and expertise in their specialty and/or subspecialty of medical practice. Most boards require that physicians recertify throughout their careers to ensure and promote ongoing professional development, practice assessment, and improvement. Choosing the right Dermatologist depends on your needs. Always consider a candidate's overall qualifications, experience, services offered, and patient satisfaction when choosing a physician. Always check for all necessary board-certified training and degrees, up to date certifications through an accredited healthcare institution and a valid license to practice through the respective state of Dermatology or state/international medical board in their state or country. Look for a physician who has completed an accredited fellowship in a sub-specialty related to your condition or the surgery you have elected. Accreditation information, including fellowships and board certifications can usually be found on a physician's official online profile. If it is not, make sure that you request this information. When you, a family member, or friend needs a medical treatment, you want to make sure that you choose a highly qualified doctor who is dedicated to providing outstanding care.