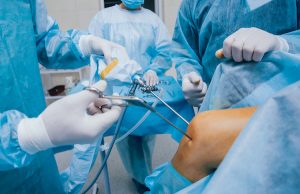 Orthopedics is the medical specialty that focuses on the prevention, diagnosis, and treatment of disorders of the bones, joints, ligaments, tendons, and muscles also known as the musculoskeletal system. A Doctor of Medicine who specializes in Orthopedics is known as an Orthopedist (also called an Orthopedic Doctor or Orthopedic Surgeon). Our bodies consist of between 206-213 bones and more than 600 muscles connected by ligaments, soft tissue, and tendons. All the parts of this complex musculoskeletal system work together to allow you to move, work, and be active. They also support your body's weight and helps you maintain good posture. Managing your overall health properly by exercising regularly, maintaining a healthy weight, plenty of sleep, and healthy food choices will help to keep your musculoskeletal system strong and healthy. Age, disease, back problems, arthritis, and injuries are some of the main conditions and disorders that can lead to problems in the musculoskeletal system, cause pain, and limited movement. To properly diagnose a person's condition, the orthopedist needs to perform a physical examination which sometimes consist of additional diagnostic tests that may include:
Once you have received a diagnosis, you and your doctor should discuss treatment options and decide what is best for you. Orthopedists use both surgical and non-surgical approaches to treat a variety of musculoskeletal issues, such as back problems, bone fractures, degenerative disease, joint pain, and sports injuries. On many occasions, musculoskeletal issues can be treated with non-surgical methods. These methods attempt to heal damage to the musculoskeletal system through non-surgical treatment options. Not all orthopedic conditions or injuries require surgery. Listed below are some non-surgical orthopedic procedures:
Booting, bracing, and casting
Cervical epidural injection
Platelet-rich plasma treatment
Extracorporeal show wave therapy (ESWT)
Visco supplementation for treatment of arthritis
If non-surgical treatments don't help your condition to improve, your Orthopedist may recommend surgery as the next option to alleviate the pain and/or the loss of mobility that is affecting your body's ability to function properly. Below are some common types of orthopedic surgery procedures:
Knee replacement or arthroscopic surgery
Shoulder and rotator cuff surgery
Orthopedic surgeons will often specialize in a certain branch of Orthopedic medicine to treat specific conditions and body parts. These branches are called "Subspecialties". Below are some common orthopedic subspecialties: 
Musculoskeletal oncology (tumor)
Orthopedic Trauma surgery
Joint replacement surgery
Obtaining a doctor's education in Orthopedics requires a four-year undergraduate degree, then four years of medical school, and a five-year residency program. After the residency program is completed, a small group of the best candidates are selected from each medical program to participate in a fellowship training program. Fellowship training is a privilege that only top doctoral candidates are chosen to participate in to become a specialist or experts in their chosen field of medicine or surgery. Fellowship training is part of the process of becoming a specialist physician and requires an additional year or two of education. During fellowship training, a physician goes through rigorous training to become an expert in their subspecialty. The fellowship training program consists of practical experience which includes participation in numerous specialized surgeries which provides significant work experience the physician needs to become a specialist in his/her chosen field to receive their credentials. Physician's that choose this path are committing to extra education and are devoted to providing the best medical care possible to patients. A Board-certified doctor indicates that a physician has achieved the highest level of accreditation within a given specialty. Board certification is a voluntary, additional step that a physician chooses to prove that they are trained in the latest technology and advancements in their specialty. Physicians are required to successfully pass written and oral board examinations in their specific specialty to verify knowledge, competency, and expertise in their specialty and/or subspecialty of medical practice. Most boards require that physicians recertify throughout their careers to ensure and promote ongoing professional development, practice assessment, and improvement. Choosing the right Orthopedic physician depends on your needs. Always consider a candidate's overall qualifications, experience, services offered, and patient satisfaction when choosing a physician.  Always check for all necessary board-certified training and degrees, up to date certifications through an accredited healthcare institution and a valid license to practice through the respective state of Orthopedics or state/international medical board in their state or country. Look for a physician who has completed an accredited fellowship in a sub-specialty related to your condition or the surgery you have elected. Accreditation information, including fellowships and board certifications can usually be found on a physician's official online profile. If it's not, make sure that you request this information. When you, a family member, or friend needs a medical treatment, you want to make sure that you choose a highly qualified doctor who is dedicated to providing outstanding care.